Deidre, over at For Such a Time as This, has been doing Sunday Letters for a long time. She writes a little letter to each of her family members about their week and what is going on in their lives. I thought it was such a neat way to document life, something I am not great at sometimes so I kept wanting to give it a try! Then she created a link-up and button for it so I felt like this was the time! So, to check out her fabulous blog or see other Sunday Letters go to the link below!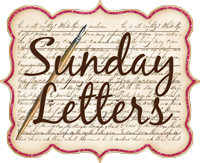 Dear Max,
You are getting so big! I was a little nervous this week when your Mom's Day Out was cancelled and then I found out we would be snowed in most of the week! You get a little bored these days at home. I try to keep you entertained but I think you are just a little smarty-pants and you get bored with me sometimes!
Your Dad and I have been cracking up because we realize how much of your crankiness and fits sometimes are totally food related. The past week or so when you have been freaking out we have forced you to eat something and after one bite you are your happy, sweet self again! It is the craziest thing!
You have had some super sweet moments this week wanting to snuggle with me and sit on my lap. I know my days with you wanting those things are numbered so I try to take them in so I can keep them forever. My little man is growing up too fast.
You crack me up at bedtime because you are being a "typical little kid" and you try to stall. You know that one surefire way to get me to stay in your room is to recite all of your Bible verses to me. So far, we have learned together Genesis 1:1, Colossians 3:20, Phillipians 4:13, and 1 John 3:11. I am AMAZED at how quickly you learn them... you already know them when I am still having to double check my Bible!
Dear Sophie,
Ahh... my sweet Sophie. What am I ever going to do with you? :) You have been a little bit of a handful this week... it is like you are 2 or something... okay you are 2, but you act like you are much older so it is so easy to forget. You knocked over a book case which almost resulted in serious injury and then yesterday I found you on my carpet with hot pink nail polish painting your toe nails! Surpisingly, the carpet survived just fine! And honestly, you were doing a pretty good job and gettign decent coverage so it was hard to be too upset!
We are working on potty training these past few days and you are doing a pretty good job. You love your big girl underwear. The thing you love most is when we all praise you after you potty on the potty. Last night you had me, your brother, and your dad all in the bathroom singing and dancing and jumping around for you and I could tell you were in heaven! You love to be affirmed and I need to remember that more!
Dear Jack,
What can I say? I have always thought you were an amazing baby but since you started sleeping through the night a few weeks ago you make my heart soar! Ha! You bring every member of this family so much happiness Jack-Jack. Last night you had your Daddy, brother, and sister all on the floor taking turns trying to make you laugh. You are such a happy baby... as long as you aren't too tired.
One of your cutest features right now is your crazy baby hair. I have been taking pictures of it lately because it is just too much! It is up and everywhere! I get asked when we are going to have it cut... well, I think you need to learn to sit up first so you can actually sit in a chair to have it cut! Ha! But, then I don't know. I am not in a hurry to have my baby look grown-up!
Dear Nick,
You have been a trooper this week. With all the snow and ice you had to work from home a few days which I know wasn't easy. Thank you for all of your shoveling and running to the store and dealing with my mini-freakouts! You are good at that.
I had so much fun with you on our little date yesterday! I forget how much I NEED our date time and it is so good to get out of the house and have one. At home it is easy to watch movies or get distracted when spending time together (I know I am the one that gets distracted!) But, when we are out we just talk each other's ears off and I love it! Thank you for wandering Lowe's with me and letting me get excited about all of our house projects coming up... I know they aren't your favorite thing but you know that they are my love languages and you speak to me... :-)
Here's hoping for a great week without snow cancelling anything!!!