So, I missed my Random Friday Post and my Why I Love My Husband posts this week. Sad. So, we will go ahead and combine them both a little bit here on this dreary, rainy, Sunday afternoon. Let's start with some randomness...
Since it is a rainy/dreary day here we decided to run by the store after church and grab a frozen pizza and a few Red Box movies.
I have been a little addicted to Words With Friends lately. My mom, Grandma, and aunt all play... a lot. So, since I am sitting around a little more these days I decided to play too. It is kind of... really fun.
I have been obsessed with Passion Tea Lemonades lately. When the craving first hit I had to run to Starbucks and get one. But, since I can't afford several, almost $4, drinks a day I had to move on to making my own. They are just as good... but not quite as fun as having the "official" cup.
Aside from the Passion Tea Lemonades I have been on a huge tea kick. It has been about a month since I have had a Diet Coke. And sadly, coffee doesn't taste very good to me right now. So, tea in lots of varieties has been fitting the bill. I love regular iced tea, sweet tea, flavored tea, hot teas, green tea, etc. I am a little obsessed.
I haven't gotten a ton of stuff done this weekend. But, I did manage to get my hospital bag "mostly" packed. It is a little hard because so much of what I want to take (camera, laptop, make-up) is stuff I have to use everyday.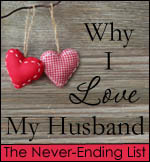 And how about a little husband love...
I just have one this week but it is a big one...
The poor guy has been sick for over a week now and is still being so helpful taking care of me and the kiddos. I am just so thankful for him!