I was scrolling through my GoogleReader today and came across
Carrie's blog post for today
. It is kind of funny, I don't really know Carrie but I pretend that I do. She is my sister-in-law's bff and so I decided she needed to be my Facebook friend awhile back and now I follow her on Instagram. Carrie and I share a love of pets and Starbucks... need I say more?
Anyway, today Carrie linked up with a blog called
The Happy Wives Club
(how do I join?) and they do a segment on Thursdays called,
Why I Love My Husband: The Never Ending List!
Each week people link up with any blog post and add additions to their list of why they love their husbands. Talk about right up my alley. You know I love to gush about the hubs on the blog... and now I have an excuse!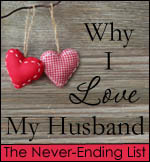 So, here it goes... I am joining in on the fun!
Let's start with the obvious... he is so cute.
He is the ultimate servant in our family... he takes care of all of us so well and is so willing to put me and the kids first. It amazes me.
(Especially lately) He deals with my craziness very well. I am less than 5 weeks from my due date and I am a bit of a mess. He is always so kind and reassuring.
He always eats whatever I cook and tells me it is delicious. He makes it very fun to make meals for him.
He is faithful in his walk with God. I am so thankful for Nick's spiritual leadership in our home. It means a lot to me to know that the leader of our family is in God's word every morning and I love that he can answer so many of my Bible questions!
We share the same goals and dreams for our future. It means a lot to me to know that we are working in the same direction.
He paints my toenails for me... since I can't reach them. If that isn't true love I don't know what is.
He always asks my opinions when making decisions.
Hmmm... this post makes me think I should maybe make something other than tuna casserole for dinner for such a wonderful husband...